St Chad's Academies Trust is one of the Lichfield Diocesan Multi Academy Trust (MAT) a part of Lichfield Diocese, one of the 44 Dioceses which make up the Church of England. The Diocese covers most of the County of Staffordshire, the northern part of the County of Shropshire and a substantial part of the former Metropolitan County of the West Midlands. The Diocese envelops all or part of 7 Local Authorities and has 207 Church Schools and academies in its remit.
The Board works in partnership with the seven Local Authorities in the Diocese (Sandwell, Shropshire, Staffordshire, Stoke-on-Trent, Telford & Wrekin, Walsall and Wolverhampton) and also with the Department for Education and Academy Trusts. The Board also works alongside higher and further education providers.
The Board ensures that headteachers, teachers and governors have the intellectual and spiritual resources to promote the distinctive Christian character of our schools. The Board also supports the collaboration between clergy, parishes, church and community schools.
For further information please visit:

Lichfield Diocese: https://www.lichfield.anglican.org/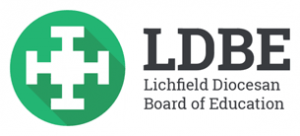 Lichfield  Diocesan Board of Education: https://www.ldbe.co.uk/ 
The Trust and academies will agree on:
• A culture of true collaboration where academies take an active role in the success of the Trust;
• What academies are expected to do for themselves;
• The way in which academies will benefit from working together to support each other's improvement;
• How the Trust will work with academies where it will add value ;
• When and how the Trust will intervene in an academy to ensure the needs, progress and outcomes for children and young people are secure and improving quickly.
Academies will:
Be led by inspirational leaders and LAC members who ensure that children have the best start in life, the best teaching and great opportunities to develop as individuals and children of God;
Become "Good" or "Outstanding";
Work collaboratively, providing support when needed and appropriate, supporting each other to provide the very best for our children;
Recruit the best teachers and support staff who are focused on teaching, learning , and actively engage in their continued professional development;
Operate as a family, knowing the Trust is with you every step of the way.
St Chad's Academies Trust will:
Be the champion of our children, families and their communities;
Facilitate creative and local solutions to secure rapid improvement in academies;
Support our academies on their journey to excellence through effective challenge and support;
Be committed to supporting academies with the greatest need so that they can succeed as well as others
Value and support all staff to succeed through quality professional development opportunities and annual performance management
Act swiftly to challenge LAC members and Principals to improve their academy's performance with integrity and transparency in the use of our intervention powers
Celebrate success of our academies;
Work closely with academy leaders to extend the provision of school to school support at all levels