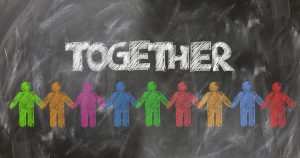 The Trust operations team are always very happy to hear from those who wish to join the St Chad's Academies Trust family or simply wish to arrange a presentation to learn a little more about us, what we do and our visions, values and missionary ethos. Our presentations are attended by Principals and other senior leaders who have gone through academisation; providing a clear focus on the process, expectations and impact pre and post conversion.
The decision to take on any new schools is taken on a case by case basis and always based on robust due diligence, which is carried out by St Chad's Academies Trust Operations team in conjunction with the school. We believe in open and transparent communication strategies from the outset to ensure long term sustainability and longevity; the Trust believes that the decision to convert to an academy should be robustly considered across all both strategic and educational dimensions to gain the best insight to the needs of the school setting to ensure a smooth transition.
If you would like to arrange a conversation to learn more about St Chad's Academies Trust and becoming part of the family, please contact our general enquires email address, ([email protected] / telephone 01543 622433)
Please view our 'Frequently Asked Questions' to gain an insight into the questions that can be posed by staff, parents/ carers and governors when considering the prospect of academisation and what it will mean and the impact for them, their children and the day to day running of the school.
Should you decide to join St Chad's Academies Trust, the Trust operations team operate an in-house project management function and will work collaboratively with you to ensure a smooth transfer, liaising directly with the school to manage the project management process, mitigating the impact on the day to day capacity of the school and working collaboratively with the seven Local Authorities geographically situated within the Lichfield Diocese.